2018 Winners in the Voice of Youth Cluster Final
01 May 2018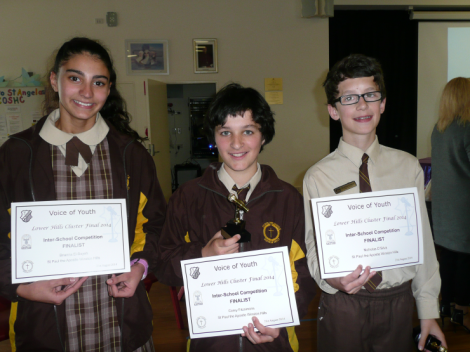 On Thursday 21st August, Year Six students and teachers and Mrs Bell attended the Voice of Youth Cluster Final which was held at St Angela's in Castle Hill
The Voice of Youth is an annual public speaking competition held in the Parramatta diocese for Year Six students.
It is a wonderful platform for these to voice their opinions on issues relevant to them and the world in which they live.
The three finalists chosen to represent St. Paul's in this competition were: Brianna El-Bayeh, Corey Fitzsimons and Nicholas D'Silva.
We congratulate all three students who presented their speeches with confidence and enthusiasm to an audience of a few hundred people.
Nicholas won 2nd place on the day and Corey came in third overall.
Teachers and students were very proud of all three speakers.
Facebook
06 Jun 2023

A message for any of the Stage Three boys attending the Soccer Gala Day tomorrow.

06 Jun 2023

We are getting ready for the Primary Athletics Carnival. Let the cheering begin. 📣