2018 St Paul the Apostle students record album with Andrew Chinn
30 Jul 2018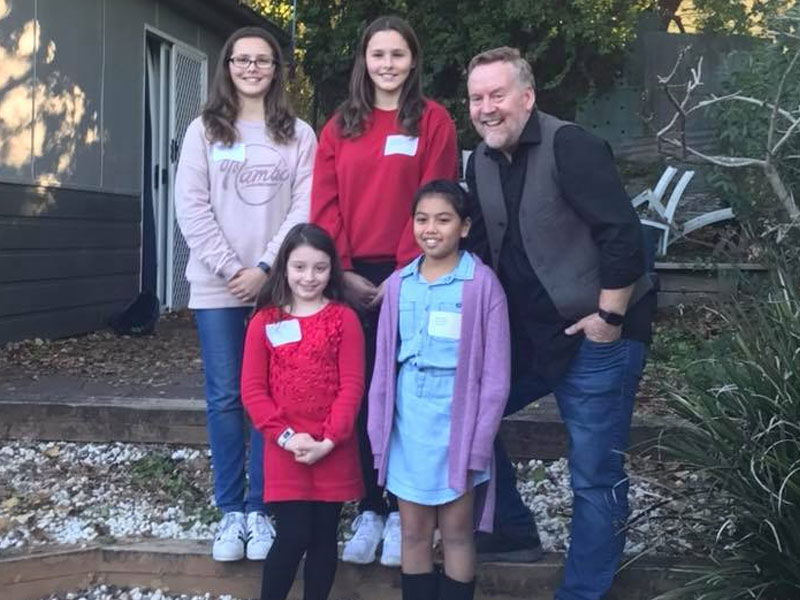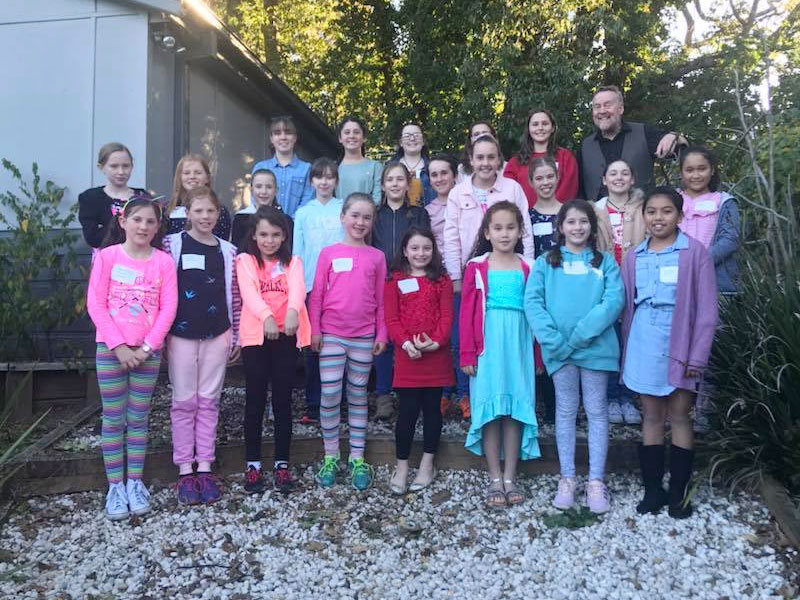 During the school holidays Jade and Taylor C in 6L and Amelia M in 3L were invited to record a new album 'Rise Up!' with Andrew Chinn at the Robertson Brothers Studio in Springwood
The choir consisted of 20 singers from Years 3 to 11 of various schools over NSW.
We are so proud of the girls who represented both the school and the Parramatta Diocese. It was truly an honour to be invited to participate in this special event.
Here is Amelia's recount of this very exciting day
During the holidays I was so excited because I was asked to be in Andrew Chinn's choir to sing for his new album. When I got to his recording studio I was very nervous but very excited to start. There were about 15 kids from all over New South Wales there and I felt important because I was one of them. I was the youngest one in the choir.
The recording studio had lots of microphones and sound machines all over the place, and we had to sing each song so many times so they were perfect! My favourite song of all the seven I had to learn was 'With a Father's Heart, With a Mother's Heart'.
I can't wait for everyone to hear this song when it comes out.
About Andrew Chinn
Andrew Chinn worked as a classroom teacher in Catholic Primary Schools in Sydney, Australia for nearly twenty years before moving into his full time music ministry. Andrew has visited more than 1000 Catholic primary schools, performing in 2000 concerts across Australia, New Zealand, the USA and Canada sharing his music and his faith with children, teachers and parents. He has released 10 CDs, 5 DVDs and 5 picture books, which are used widely by teachers and catechists in the faith development of children.
Facebook
21 Mar 2023

H A R M O N Y D A Y 2 0 2 3 🧡🧡🧡🧡🧡🧡🧡🧡🧡🧡🧡 Today we celebrated Harmony Day at St. Paul's. Members of our Mini Vinnie's team began the day by leading prayer at Children's Prayer before school. Following that, the Mini Vinnie's team presented a range of cultural games for each grade to play. The traditional games were taken from countries including India, Samoa, Italy, Australia and Trinidad. Finally, Year Six united our school in an afternoon prayer, with each grade displaying their paper chain people to represent each individual in our community being united together as one. We pray, God of all people, God of love, Just as the colours of a rainbow blend and merge to form one rainbow, So too may the colours of our different cultures and beliefs, blend and merge in our families, our communities and throughout our world through mutual respect and acceptance, so that we may come together in true harmony. Amen. 'Everyone Belongs'

20 Mar 2023

Cross Country 🏃‍♂️🏃‍♀️ Today the 8-12 year olds at St Paul's participated in Cross Country. Congratulations to all the children who displayed great determination and endurance to finish their races. We would also like to give a massive thank you to all of the parent helpers who were involved. The day was a great success! 👏🏼