2014 Socks on, rocks! Catholic Schools Week visit by Executive Director
13 Mar 2014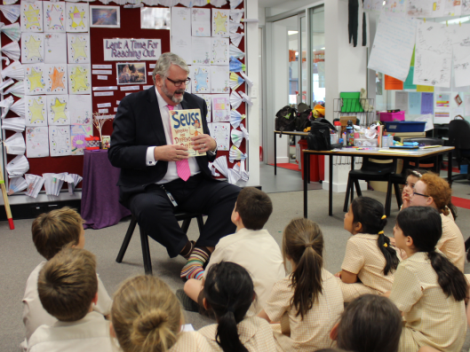 Executive Director Greg Whitby reads Hooray for Diffendoofer Day by Dr Seuss
Executive Director of Schools, Greg Whitby, joined Year 3 students at St Paul the Apostle Primary, Winston Hills for a special event to celebrate Catholic Schools Week
Greg was greeted by a group of students pleading with him to 'show us your socks!' Greg took off his shoes to show a pair of his famous brightly coloured socks to the delight of the students.
Greg brought in his favourite book, Hooray for Diffendoofer Day, by Dr Seuss which he read to a group of Year 3 students.
He explained that he often asked teachers to read the book because it was about a school that students loved because they are taught to think not just sit a test.
After reading the book to the enthralled group, Greg asked the students what sort of school they would like and one eager student piped up saying ' we already have a Diffendoofer school!'
Greg said it was great to get back into the classroom and spend some time reading with the students.
'Catholic Schools Week is an important time for us to celebrate as a community and to showcase the quality learning and teaching taking place in our schools every day,' said Greg. 'It is terrific to be able to spend some time with a great bunch of our students and discuss what makes a great school.'
This year's theme for Catholic Schools Week is 'More than a Great Education', and Catholic schools are celebrating throughout the week with special liturgies and Masses, events, open classrooms, school tours and a whole host of activities.
Facebook
21 Mar 2023

H A R M O N Y D A Y 2 0 2 3 🧡🧡🧡🧡🧡🧡🧡🧡🧡🧡🧡 Today we celebrated Harmony Day at St. Paul's. Members of our Mini Vinnie's team began the day by leading prayer at Children's Prayer before school. Following that, the Mini Vinnie's team presented a range of cultural games for each grade to play. The traditional games were taken from countries including India, Samoa, Italy, Australia and Trinidad. Finally, Year Six united our school in an afternoon prayer, with each grade displaying their paper chain people to represent each individual in our community being united together as one. We pray, God of all people, God of love, Just as the colours of a rainbow blend and merge to form one rainbow, So too may the colours of our different cultures and beliefs, blend and merge in our families, our communities and throughout our world through mutual respect and acceptance, so that we may come together in true harmony. Amen. 'Everyone Belongs'

20 Mar 2023

Cross Country 🏃‍♂️🏃‍♀️ Today the 8-12 year olds at St Paul's participated in Cross Country. Congratulations to all the children who displayed great determination and endurance to finish their races. We would also like to give a massive thank you to all of the parent helpers who were involved. The day was a great success! 👏🏼